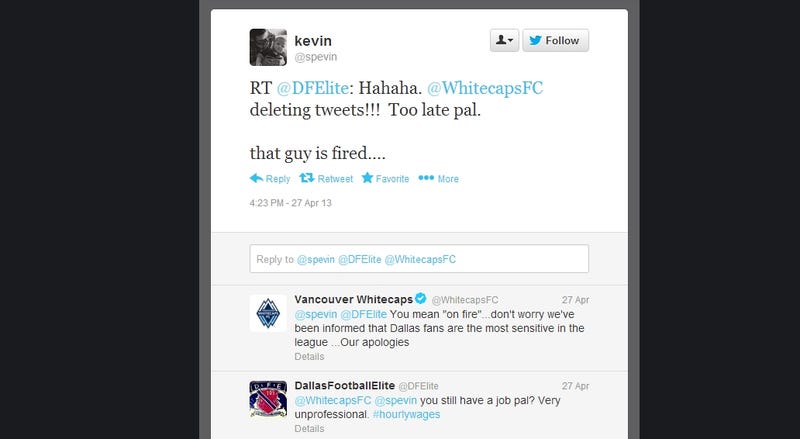 We know the people who run the front office are fans at heart as well, but the Whitecaps decided maybe they shouldn't be yelling "How is your face, Ferreira?" from their main account.
Things are getting heated in the rivalry between FC Dallas and the Vancouver Whitecaps. Despite a playful back-and-forth between the teams' social media accounts (Vancouvering!) before the game Saturday, it was during the first half where things really started to get a shade more uncouth than you might be used to seeing from official Twitter accounts. Here are some tweets from the @WhitecapsFC account:
To be fair, it's not without precedent: The Vancouver Canucks' official livetweeting accountis ran by a guy named Derek Jory who aims for playful, passionate tweets. But we think of main accounts as having a little more decorum, and those first two tweets vanished by the beginning of the second half. When I asked the Whitecaps, this is what they had to say:
Both ourselves and FC Dallas are keen on creating fun, engaging social media content to stimulate fan interest… However, after gauging reaction from Dallas fans to these tweets during the match, and in consultation with FC Dallas communications staff, we decided it was best to move in a different direction for the remainder of the match.
The Caps said they had been "all healthy discussions," so perhaps the staffer wasn't fired.
The real comedy in all of this is the giant elephant in the room. Same reason why the obvious response to the Vancouvering video, defining Dallasing as a verb meaning "to dive"came from blog Pucked in the Head and didn't get coverage from the Caps' official social media; same reason why Schellas Hyndman lost it on the Province's Marc Weber on Saturday.
Despite the fact that everyone knows, make sure you never talk about Dallas and diving — at least not in front of them.
Sources: I got the full text of the first two from this message board post, though I'd MTed the Bambi tweet myself. Second two are still up.