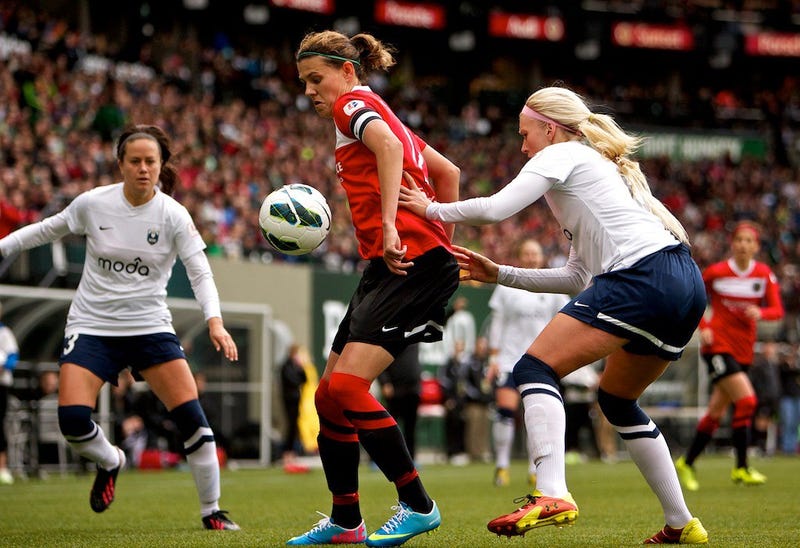 It's Monday, Vancouver Whitecaps fans! That mean's it's time for the Monday Review. What happened in soccer (as it relates to Canadians) this week?
NWSL
It was the historic start of the National Women's Soccer League's first season! (That actually started a week ago.) Portland Thorns FC defeated Seattle Reign FC 2-0 in their home opener Sunday. A posted attendance of 16,479 at Jeld-Wen eclipsed all of the games in the previous women's pro league, WPS, as well as the crowds of all 9 MLS games except LA and New York.
The news will hearten women's soccer fans, although certainly an MLS stadium in Portland with two of the best attacking players in the game got an attendance that teams like Chicago, satisfied with its 3,000-seating Village of Lisle-Benedictine University Sports Complex, aren't trying to hit while the game is in its growth period.
But the good news is that the teams are fairly even on the field. Though Portland has heavy talent in Canadian talisman Christine Sinclair and goalkeeper Karina Leblanc as well as the USWNT's Alex Morgan, the Thorns were bright in attack and okay in defense, but they need to figure out how to get the ball to their attacking pair. Just like Canada! Seattle sported the CANWNT's Kaylyn Kyle and Emily Zurrer, as well as Welsh star Jessica Fishlock, who was keen to play antagonist to the Portland fans. Should be bright.
Thorns lead the table with 4 points and a 1-1-0 record. In the other NWSL game of the weekend, Canada's Diane Matheson scored an 86th minute penalty kick to draw the Washington Spirit even 1-1 with the Western New York Flash.
MLS
Despite really really looking like they could pull out a win against Houston, Toronto conceded at 93:30 of a 94-minute match on one of those last gasp corner attempts. TFC had a man on the far post and a man on the near post, but nobody on Houston D-Mid Warren Crevalle, who stood right in front of GK John Bendik and flicked it backwards with a seal-poke of his forehead. It erased a lead the team had been carrying since a Jeremy Hall goal in the 58th minute for a 1-1 draw.
Elsewhere, Seattle got a 1-0 away win at Colorado, Portland drew 1-1 at San Jose, the Union beat United, LA Galaxy turned away Kansas City, Salt Lake defeated Chivas, Chicago got Columbus, and New York trounced New England 4-1 at home.
Montreal, sitting third in the East, didn't play this weekend. TFC is sitting four points out in seventh, while Vancouver is seventh in the west, because oh yeah.
NASL
FC Edmonton, whom Vancouver will visit in the Voyageurs Cup on Wednesday, lost 2-0 to Minnesota United, struggling to find space despite having lots of possession. Former Whitecaps Wes Knight left the game with a serious foot injury in the 17th minute and they conceded a penalty in the 29th. It was a bad day for Colin Miller. The winless Eddies sit joint bottom with a point after three games.
CONCACAF Men's Under-17 Championship
The agony. The ecstasy. Terrified high-schoolers playing away in Panama City. Already qualified for the U17 World Cup after pushing past Trinidad and Tobago, Costa Rica and Jamaica, the Canadian men's U17s tried to push for gold but lost out to Panama in the semis.They beat Honduras on penalties in the bronze medal game, so they'll go home happy. And they should! They got some good games against international opposition, and now they have a trip to the United Arab Emirates in October to look forward to. Hopefully nobody threw urine at them.
USSDA
With five players away with the Canada U17 men's team, the Whitecaps U18 residency team managed to beat San Juan SC 2-1 despite having to haul in some younger players. The U16s, however, had all their players hauled in by the U18s, and lost 1-0. With five games left each, the U18s and U16s sit first and sixth respectively in their West Conference standings.
PCSL
The Pacific Coast Soccer League schedules are out! They're, uh, all in Excel. Working on it. Sadly missing Kelowna club Okanagan Challenge FC after it closed its doors this winter, the men's season will kick off next weekend with the Victoria Highlanders and Victoria United both hosting and conclude July 21st before the Challenge Cup on the 27th and 28th.
The Whitecaps' women's team (is the PCSL squad now the senior team? Oh, woe) will get the ball rolling for the women's Premier division May 1st at SFU. It will conclude the same time.
BC Provincial Cup
Semifinals have been set for BC Soccer's adult cup competition. On the men's side, Surrey United Firefighters beat Estrella de Chile and will face the PCSL champion Vancouver Thunderbirds, UBC's summer team, who offed VMSL champs Columbus FC 3-1. West Van FC and Cowichan won their quarterfinals, and will meet on the other side of the bracket.
On the women's side, Surrey United and Castaways FC picked up wins, as did Prospect Lake SC and the NSGSC Renegades. All semifinals will take place next weekend.
Read this post on Little Rubber Pellets. Photo courtesy Craig Mitchelldyer/Portland Thorns FC